SmogOff

In 2021 we were awarded funding from Smartline (European Regional Development Funding) to develop and test some air pollution sensors (particulate matter and NOx). We were looking at ways to visualise air pollution in situ and in real time, so people can see the pollution levels on their streets. We've since been joined by Antony Brown who has 6 months funding to further develop the system, thanks to the UKRI Doctoral Career Development Fund.
The plan came about because new bike lanes were due to be installed near our studio in Cornwall in early 2022, and there was interest from the local council for getting air pollution data before and after the new infrastructure is put in place. The funding for the new bike lanes never materialised, but we developed and tested the sensors and visualisations on our studio building (Jubilee Wharf and Jubilee Warehouse in Penryn). The building is sandwiched between a busy road on one side and a calm estuary on the other, and has an adventurous and thoughtful management team who are very keen to experiment. We also worked with Cornwall Council to understand what air pollution monitoring they were already doing and what's missing. One of the next steps is to calibrate our low-cost sensors against the Council's professional-grade monitoring equipment.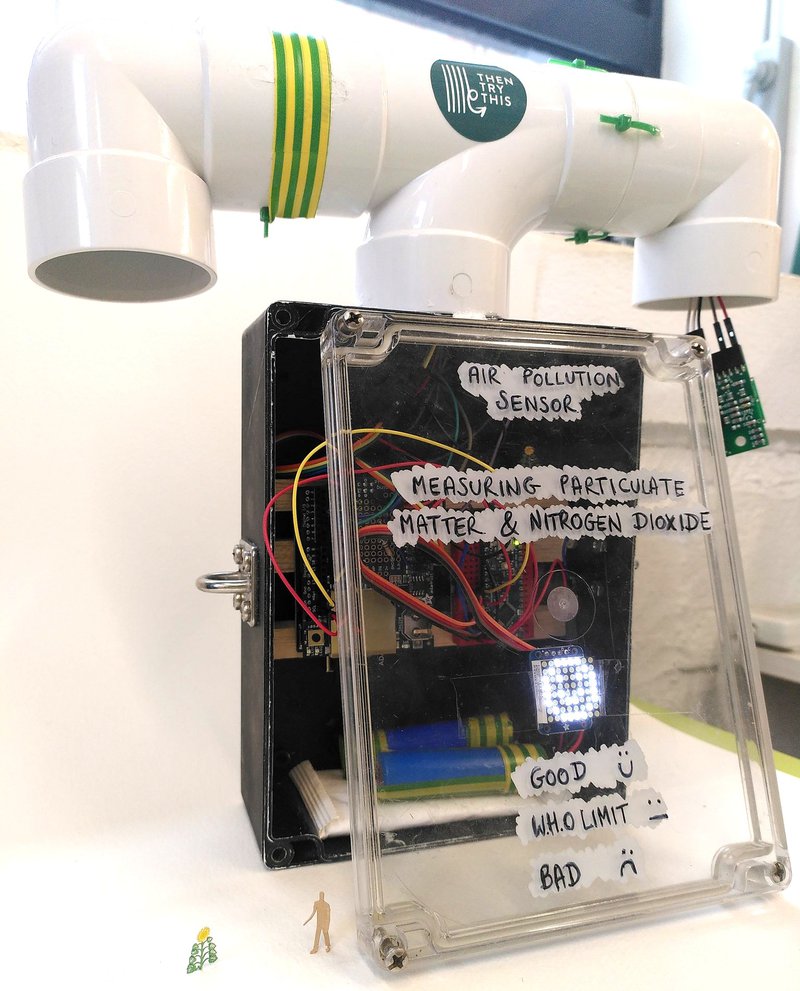 You can read about the development so far. The sensor and visualisation software are open source, and the data presentation happens on the streets, so everyone has access to what we're doing. Antony will be working on documentation so people can replicate the technology for their own purposes.
The project builds on the technology we've been developing for the Sonic Kayaks.
We're open to anyone who's interested in getting involved - if that's you, get in touch over email or Twitter.