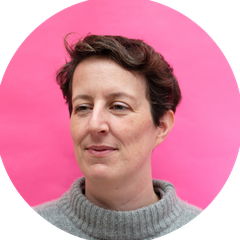 Amber Griffiths
Dr. Amber Griffiths is a founding Director of Then Try This. With a background in wildlife conservation genetics research and science policy, Amber now develops new ways to do research that integrate better with the needs of society, with publications spanning genomics, ecology, evolution, data visualisation, sound art, remote sensing, appropriate technology, workshop design, wildlife conservation and science policy, as well as writing for international media including The Guardian and The Conversation on the rapid global changes in research culture and education.
Amber held a permanent lectureship in 'Natural Environment' at the EU funded Environment and Sustainability Institute at the University of Exeter, a EU Marie Curie Intra-European Fellowship (University of Exeter, wildlife disease genetics and citizen science, 2013-2015), and an Academy of Finland Research Fellowship (University of Helsinki, fisheries genetics and management, 2011-2013). During this time they supervised 3 PhD students (Drs. Abhilash Nair, Charlie Ellis and Lewis Campbell), as well as numerous MSc and BSc research students. Before this Amber was a postdoctoral researcher on the EU FP7 project BALTGENE (University of Helsinki, Baltic sea genetic biodiversity and management, 2010-2011) and EU FP6 project CLIMIGRATE (Royal Holloway University of London, using ancient DNA to predict the response of wildlife to climate change, 2009-2010), and completed a PhD on citizen science and genetics for amphibian conservation (Institute of Zoology/Queen Mary University of London, 2005-2008). Amber was seconded as a scientific adviser in the UK Parliamentary Office of Science and Technology (2008) translating science for MPs and Lords, has performed advisory roles in the European Parliament, and sat as a Councillor (UK local government, Mylor and Flushing, 2018-2019).
Amber's current projects include making a citizen science platform for insect behaviour research, building low cost air pollution sensors for community activism, developing a climate adaptation tool for local government, curating a residency series on microbe behaviour, and a cross-political-party project linking policy makers with local researchers for environmental and climate action.
Email: amber@thentrythis.org