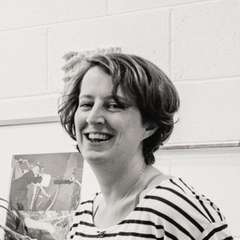 Amber Griffiths
Dr. Amber Griffiths is a founding Director of Then Try This. With a background in research and education in conservation genetics and science policy advice, Amber now works as a generalist, developing new ways to do research that integrate better with the needs of society. She has written ~40 peer-reviewed articles in internationally recognised journals, cited over 2400 times, spanning genomics, ecology, evolution, data visualisation, sound art, remote sensing, appropriate technology, workshop design, wildlife conservation and policy, as well as writing for international media including The Guardian and The Conversation on the rapid global changes in research culture and education.
Amber held a permanent lectureship in 'Natural Environment' at the EU funded Environment and Sustainability Institute at the University of Exeter, won a EU Marie Curie Intra-European Fellowship (Wildlife disease genetics and citizen science, 2013-2015), and an Academy of Finland Research Fellowship (Fisheries genetics and management, 2011-2013), and has participated as a researcher on the EU FP7 project BALTGENE (Baltic sea genetic biodiversity and management) and EUFP6 project CLIMIGRATE (Using ancient DNA to predict the response of wildlife to climate change). Her PhD, completed in 2008, was on citizen science and genetics for amphibian conservation. She has worked as a scientific adviser in the UK Parliamentary Office of Science and Technology, translating science for policy makers, and has performed advisory roles in the European Parliament and for various conservation charities. Most recently, Amber was invited as a member of the advisory panel for the Eden Project's Invisible Worlds exhibition, and given an honorary Senior Lectureship at the European Centre for Environment and Human Health.
Her current work includes combining sound art and remote sensing for Sonic Kayaks, carpentry and electronics for building tangible interfaces for exploring weaving, coding and virus evolution, designing systems for behavioural change for sustainable horticulture and agriculture, and developing ways to reduce knowledge inequalities by improving access to scientific research. As a related side-line, Amber was a councillor for a year (UK local Government) and ran a community climate action group.