As university researchers fall foul to increasing metric and bureaucratic demands, time and energy for creativity is ever decreasing. At the same time, access to formal learning in the UK is becoming harder with increased university fees. A niche is opening...
Biohackspaces, or community biology labs, are popping up globally – offering anyone the opportunity to learn and play with biology, without committing to a long, prescriptive, and expensive university course.
Typical users include scientists in search of more freedom, artists and designers wanting to embed science in their practice, and people wanting to explore a bit of biology on the side.
In late 2014 I went to visit the London Biohackspace, and met a small creative community of largely self-taught biohackers. They managed to set up well-equipped a molecular biology lab for a couple of thousand pounds – made possible by donated, fixed, and home-made equipment. It puts the vast amounts of public money spent on university research labs into painful perspective.
We thought it would be interesting to arrange a visit from London Biohackers Ilya Levantis and Nicholas Fitzroy-Dale to FoAM Kernow. We decided on two events – a seminar at the University of Exeter's Environment and Sustainability Institute to give a general introduction to the biohacking movement, and a workshop at the new FoAM studio – both open to anyone.
The seminar advert must have hit a nerve – the room was packed and we had to bring in extra chairs. We didn't just have the usual departmental crowd – there was a mix of scientists, artists, farmers, and local businesses. Nick talked about hackspaces and his first experiences with biohacking, and Ilya described some of their projects (like JuicyPrint - 3D printing using light-sensitive bacteria that produce cellulose) and highlighted the open-source principles of their work. The questions from the audience were rather telling – 'do you get money by patenting your ideas', 'how do you get access to journal articles', 'why do you do this for no pay'?
In the evening we held the workshop at the new FoAM studio in Jubilee Warehouse. We had about 25 people around the huge round table, again representing a broad mix of backgrounds. The plan was to make images made from yeast (yeastograms), fusing art and science with the aim of exposing everyone to something new. Yeastograms were developed by Pavillon_35 and a protocol is openly available.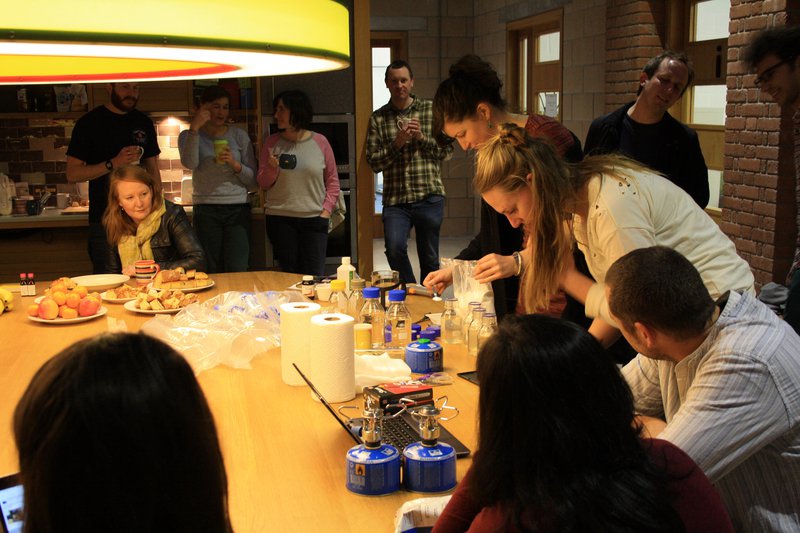 Agar was made from potatoes, coloured with activated charcoal or food colouring, and spread with live yeast – all from the local health-food shop. Some people chose to draw images directly onto petri dishes with pen or paint, and others cut foil templates. The yeasty petri dishes were then put under a high-powered UV LEDs overnight to selectively kill the yeast where there was no pen/paint or foil to block out the light. A patient 24 hours later, and the beautiful yeastograms were ready.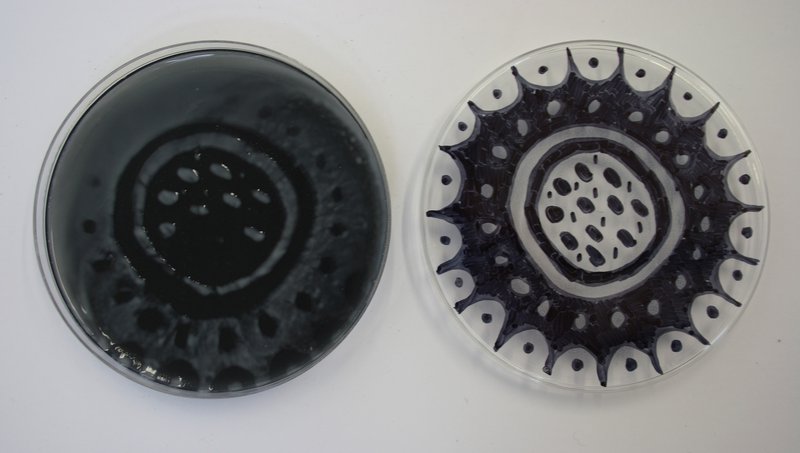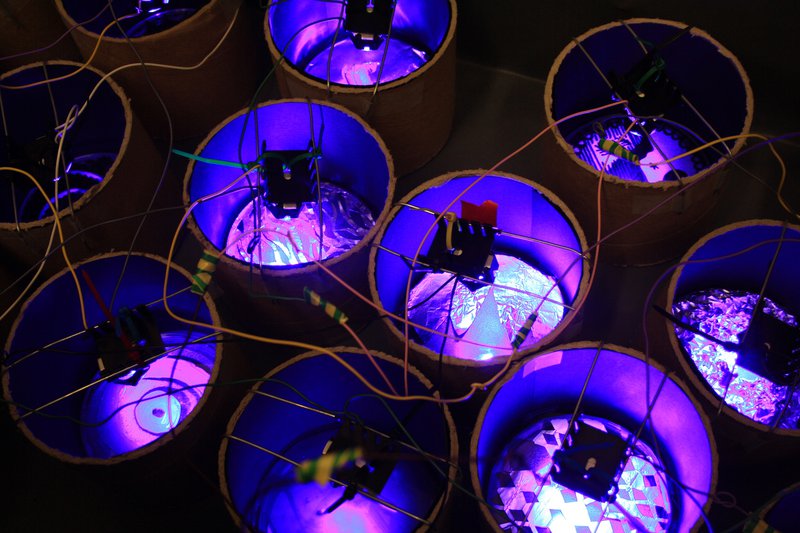 I spent a bit of time wondering whether there had been any lasting outcomes from the workshop and came up with two, which I think are quite important -
1. Plenty of people made connections with others they would never normally have met - this isn't an easy thing to engineer - it fosters mutual understanding, a stronger community, and could lead in all sorts of exciting directions.
2. If we can get a bunch of people to play with biology, maybe they'll be a little less afraid of it when it gets controversial - think GMOs, vaccination and so on. It's a bit like hands-on science communication, allowing people to feel a little more in control of the science.
We've been asked for follow-up workshops for 'advanced yeastogrammers', and are making the kit available for anyone who wants to come back and try making more. You can see more images from the workshop and final yeastograms here.
Some workshop participant feedback:
"The workshop provides a space to help facilitate a cross pollination ofideas between those engaged art/science. I thought that the workshop was a success in this regard and was well pitched in terms of the level of 'science' being accessible to those without a science background without compromising the integrity of the experiment – it was great fun!"
"As an artist who works predominantly with alternative photographic process the Yeastogram workshop was of particular interest to me. I knew of other artists using similar methods but had never tried the process myself. As well as learning about the practical aspects it was also great to meet the other participants - a diverse array of scientists, artists and inquisitive folk - who probably would not have met otherwise. I feel this kind of gathering is important in building links between people and providing a space for exciting, creative projects to develop."

"It was a lovely workshop - great to meet lots of fellow art/science geeks in the Ryn!"
"Thanks for organising yesterday, really interesting, both in terms of the work and
meeting people"
"I attended the bio-hacking lecture at Exeter University, and the followup workshop run by FoAM Kernow in the Jubilee Warehouse complex, both of which I found to be of huge benefit both professionally and socially. In October 2014 I moved from London to take up a practice-based PhD in Digital Craft at Falmouth University, funded by the AHRC. Despite being resident up at the Penryn campus I found it difficult to identify groups working across the art/science, Falmouth/Exeter divide. Attending the bio-hacking lecture was the moment this changed. Meeting Amber and Dave Griffiths and their expanded network, opened up a world of contacts and experiences to me. They operate an outward looking, inclusive organisation, which offers workshops, activities and research-based knowledge exchange. I'm so glad I found their work, it's made a huge difference to my PhD project in terms of my approach to collaboration. They have an empathetic, intelligent approach to working with people from all sorts of backgrounds, which makes them so enjoyable to work with."
Some yeastogram findings: There seemed to be no difference in the sharpness of images made with pen/paint or foil. Quite a few of the yeastograms had marks where the yeast had pooled as maybe it wasn't all poured off before the growing began. We also found that the UV bleached the food colouring, which meant there was bit less contrast between the white yeast and the agar.