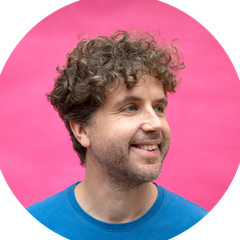 Dave Griffiths
Dave Griffiths is a founding director of Then Try This, and has worked with the FoAM network since 2009. His background is in R&D, working for Sony Europe (games) and The Moving Picture Company (film) in London. His software was used in feature film post production, and he has credits on Troy and Kingdom of Heaven. In 2009 he worked for FoAM Brussels using research AI technology to drive "plant spirit" characters for an online game about permaculture. In 2011 alongside Marloes de Valk and Aymeric Mansoux he won the Fundacion Telefonica VIDA Art and Artificial Life award with Naked on Pluto, a game that reflects on the invasive means used in the development of "social software", which has been exhibited in Madrid and Taiwan.
He is used to working with diverse sectors and people - developing experimental music technology for Aphex Twin and working with Cornish farmers on the Farm Crap App, which won the 2014 Soil Association innovation award with the Duchy College and Rothamsted Research. His current work includes research into how ancient and traditional approaches to pattern-making could enrich contemporary creative technologies, as part of Alpaca, a UKRI Future Leaders Fellowship led by Dr. Alex McLean at Then Try This.
His media experience includes a live BBC radio 6 interview with Cerys Matthews and BBC TV news talking about Sonic Kayaks (remote sensing, citizen science and sound art for visually impaired people collaborating with Kaffe Matthews). As part of slub he has performed music livecoding internationally at festivals such as VIVO Mexico City, Mozilla Festival UK, Sonar Barcelona, STRP Eindhoven and The Secret Garden Party. He is an Associate Lecturer in Electronic Music, Computing and Technology at Goldsmiths University of London, and Assistant professor for Critical Programming at the Institute For Music And Media of the Robert Schumann School of Music and Media in Düsseldorf, and also teaches programming, electronics and critical approaches to technology with primary school children, young families, school teachers in Cornwall.
Email: dave@thentrythis.org